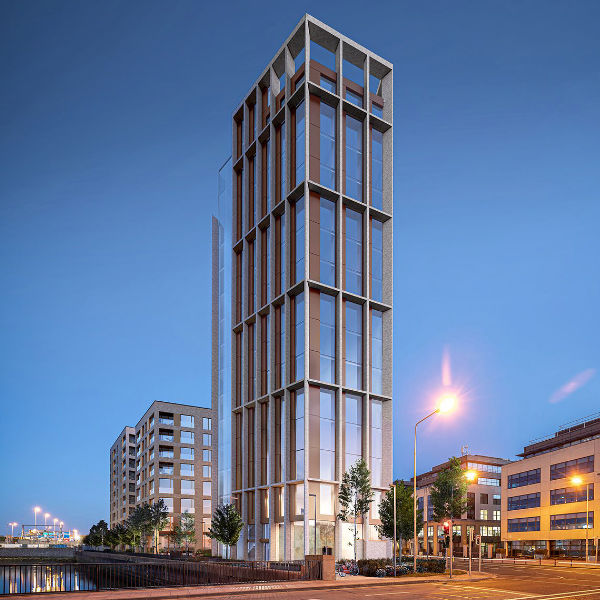 East Wharf Overview
MKN Property Group is an award-winning, privatelyowned property development company based in Dublin. First established in 1996 and spanning two generations, MKN has developed a stunning portfolio of premium residential and commercial developments in the capital.
MKN's experience is reflected in the design and development of East Wharf which comprises of a 183 bedroom hotel, 105 apartments and one retail unit in three blocks ranging in height from 8 to 15 stories, on a landmark site at the entrance to the North Docklands.
East Wharf is a brand new development located on the banks of the Tolka River in Dublin 3. Uniquely positioned in the bustling suburb of East Wall, adjacent to both Clontarf and North Docklands, this address offers residents both a long established sense of community as well as the close proximity of the city centre. In the immediate environs of East Wharf are the vibrant and much sought-after neighbourhoods of Fairview and Clontarf, filled with shops, cafes, parks and more besides.
Additionally, EastPoint Business Park, the International Financial Services Centre (IFSC), Point Square, 3Arena, Convention Centre Dublin and Croke Park are all within walking distance.
EastPoint Business Park is a mere five minutes' walk from East Wharf, set among 40 acres of landscaped greenery and home to a number of national, multi-national and Fortune 500 companies.
A short walk south of East Wharf puts you at the beginning of the Dublin Docklands area, a thriving centre for international enterprise and innovation, housing many of the Tech sector's most prominent players including Salesforce, Google, Meta, LinkedIn, Twitter and TikTok, along with Ireland's Central Bank, leading law firms and international financial institutions. Covering an impressive 520 ha/1,300 acres of the capital, there are over 40,000 people working and 26,000 living in the Docklands.
East Wharf is located within easy reach of the Dublin Docklands, International Financial Services Centre, Convention Centre Dublin (CCD), Croke Park and the 3Arena. Dublin's Port Tunnel, located next to the East Wharf development, provides easy access to both Dublin Airport (12 km and 15 minutes) and Ireland's motorway network.
The Dublin Docklands area has transformed into a recognised tech hub, with an international status attracting established global brands who include Salesforce, Yahoo, Meta, Google and TikTok. The part of the city extends to an area of approximately 520 ha/1300 acres with over 40,000 people working and 26,000 people living in the area.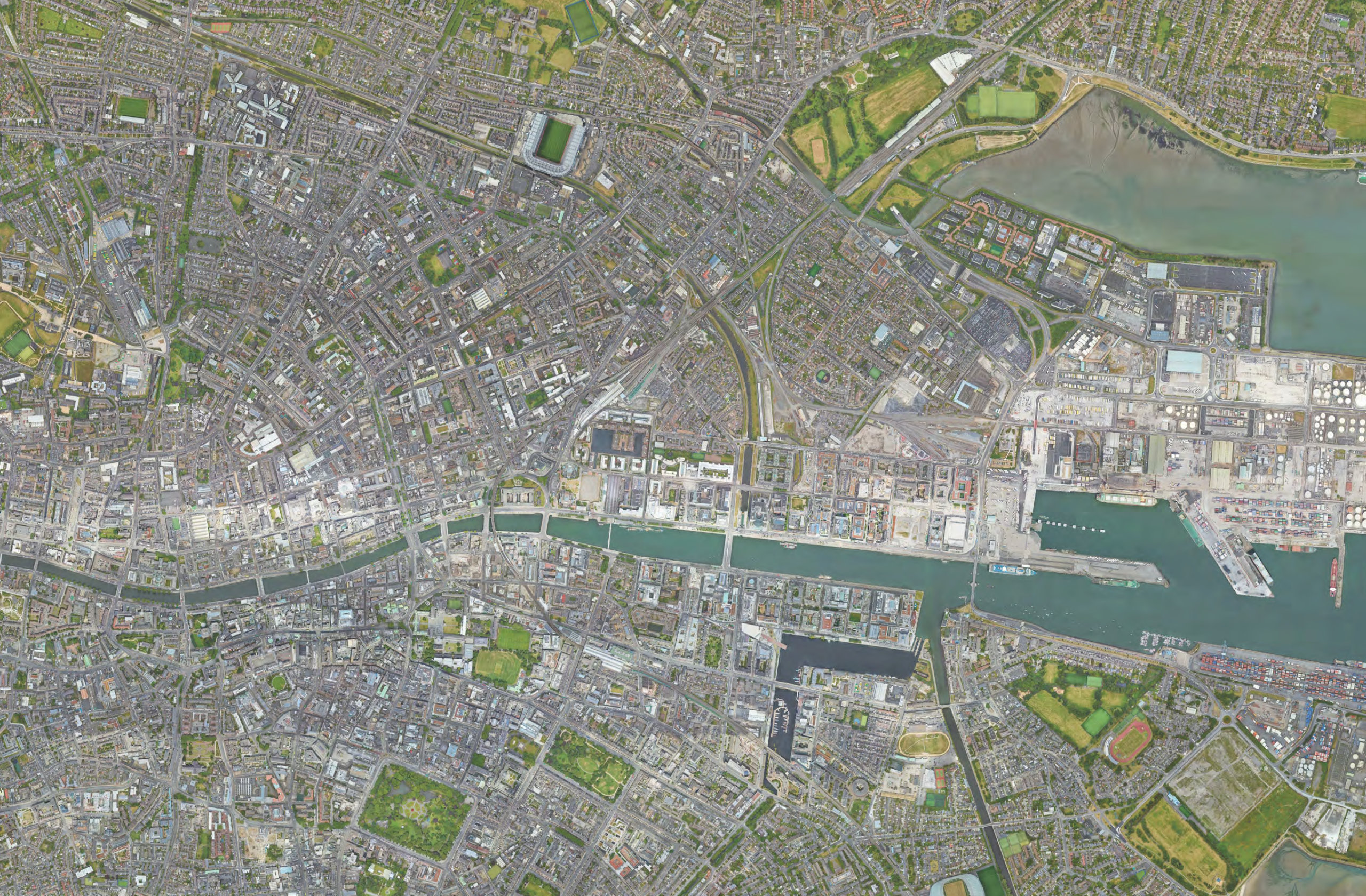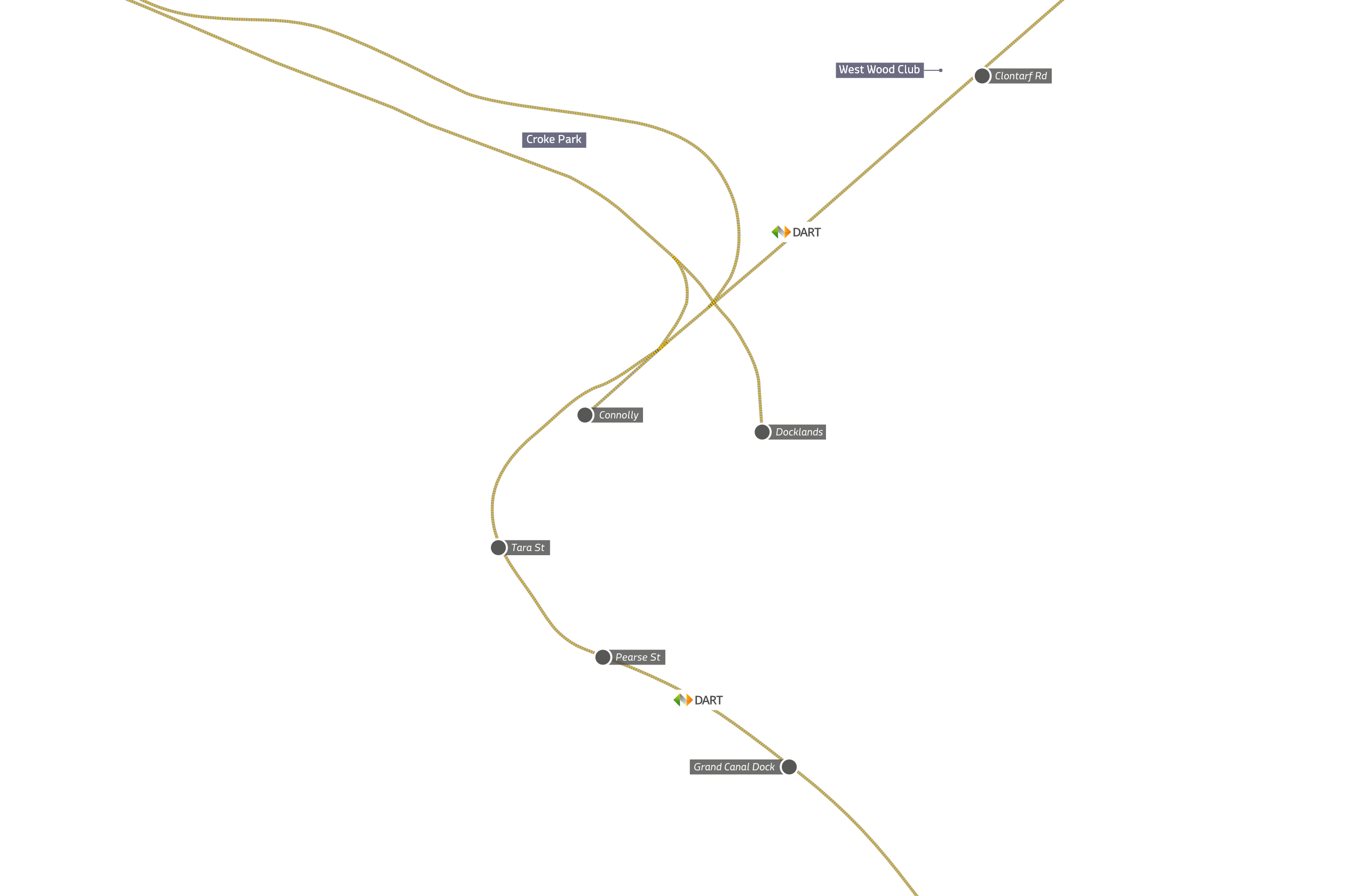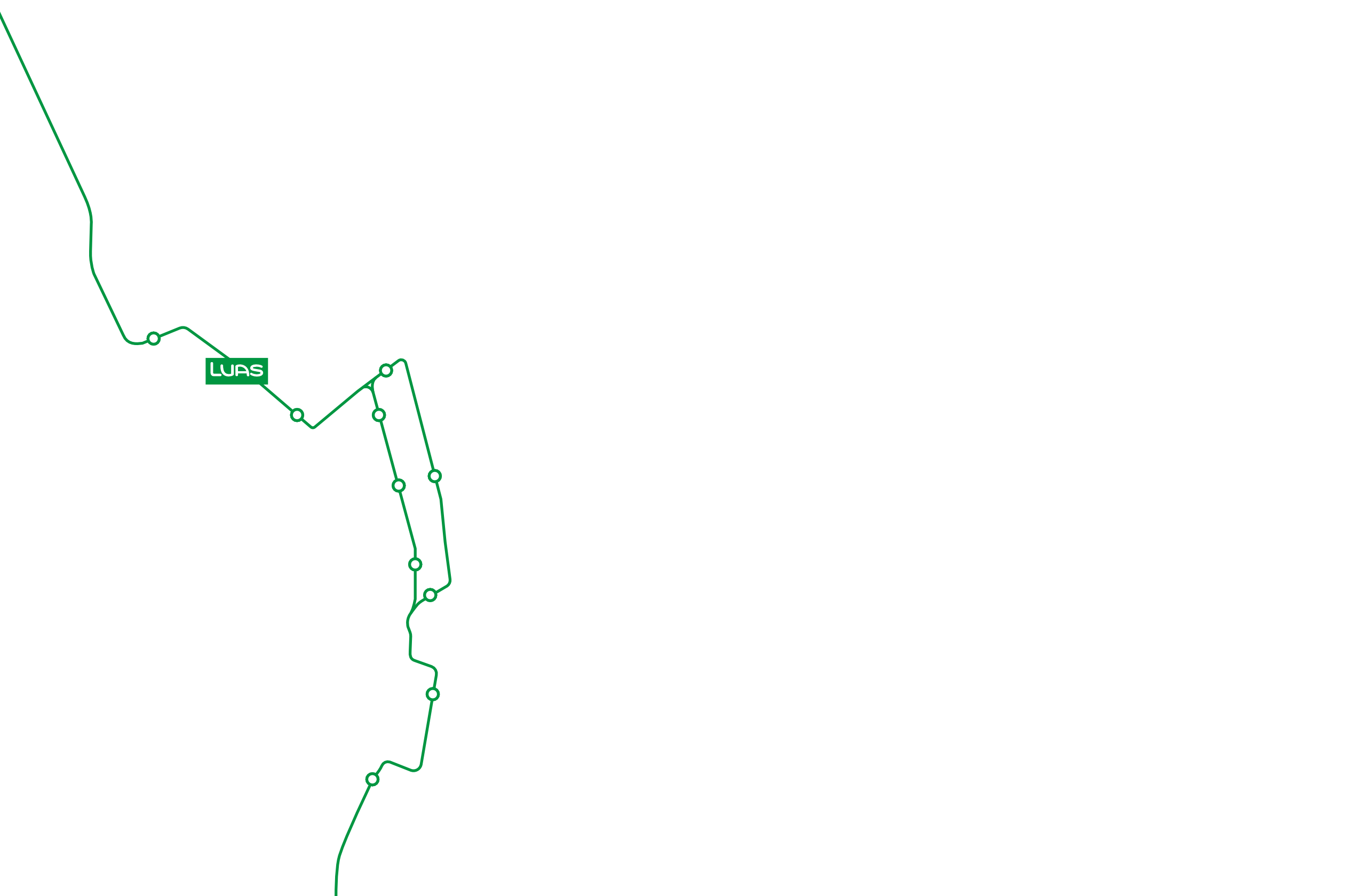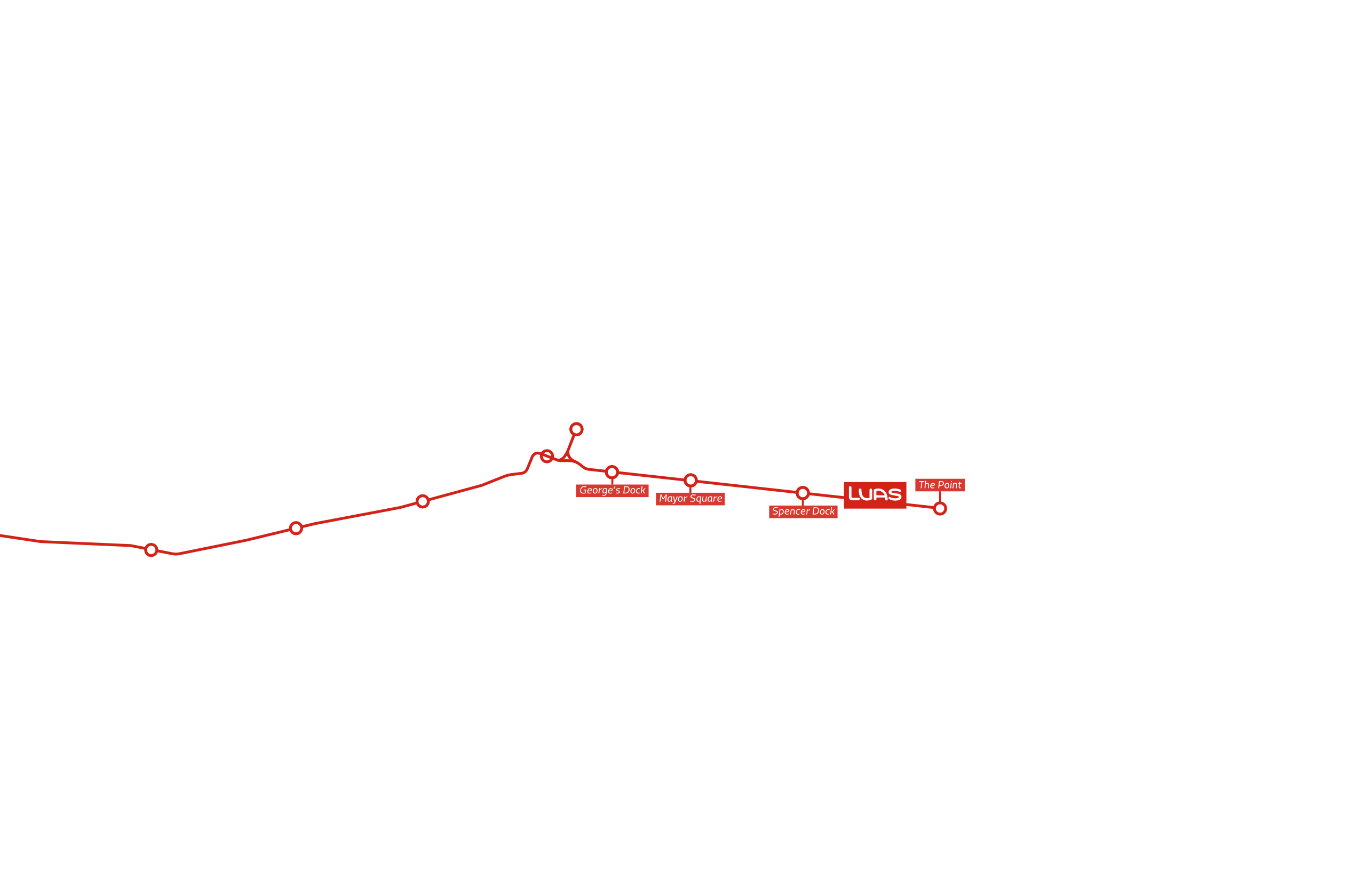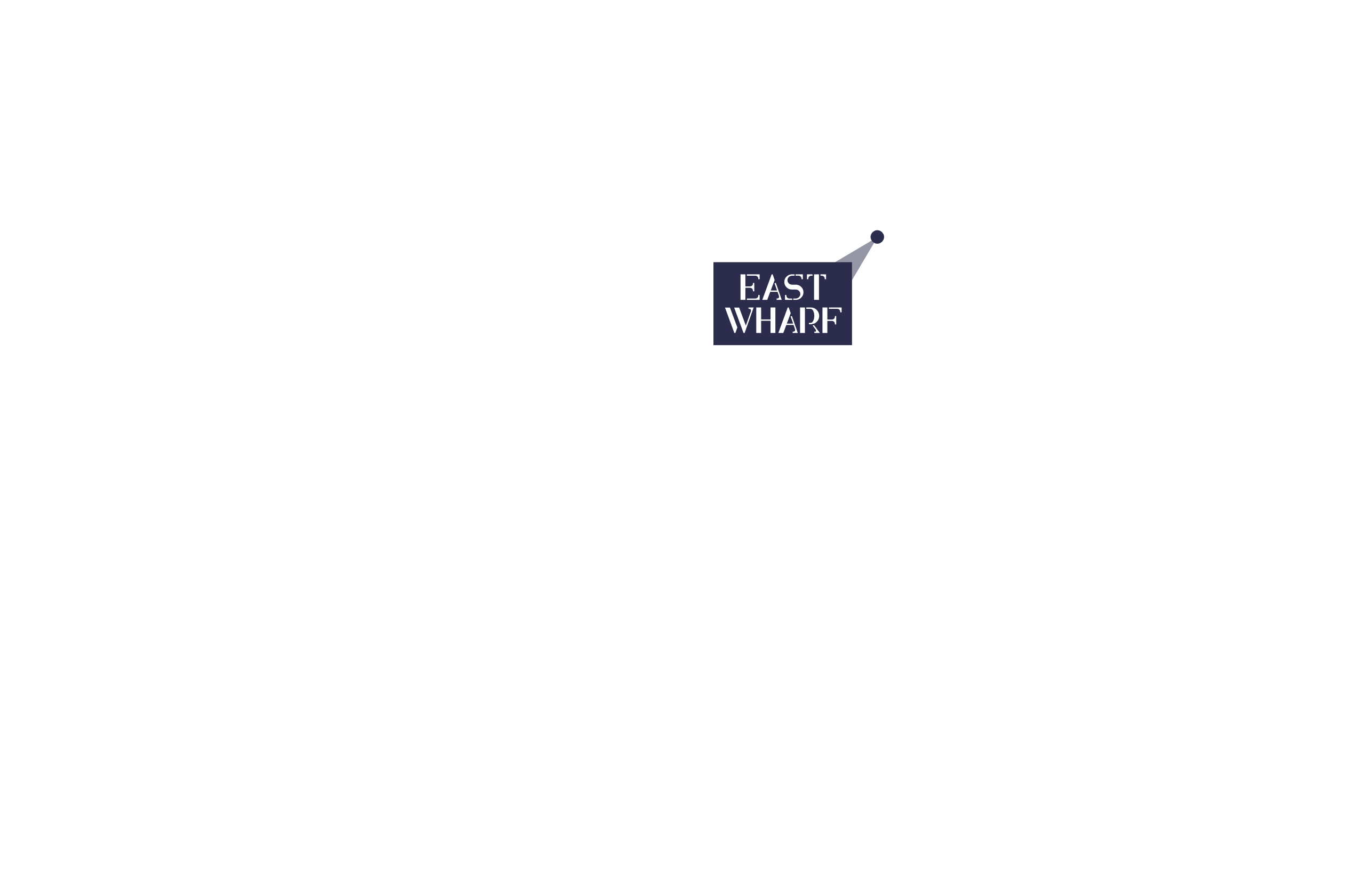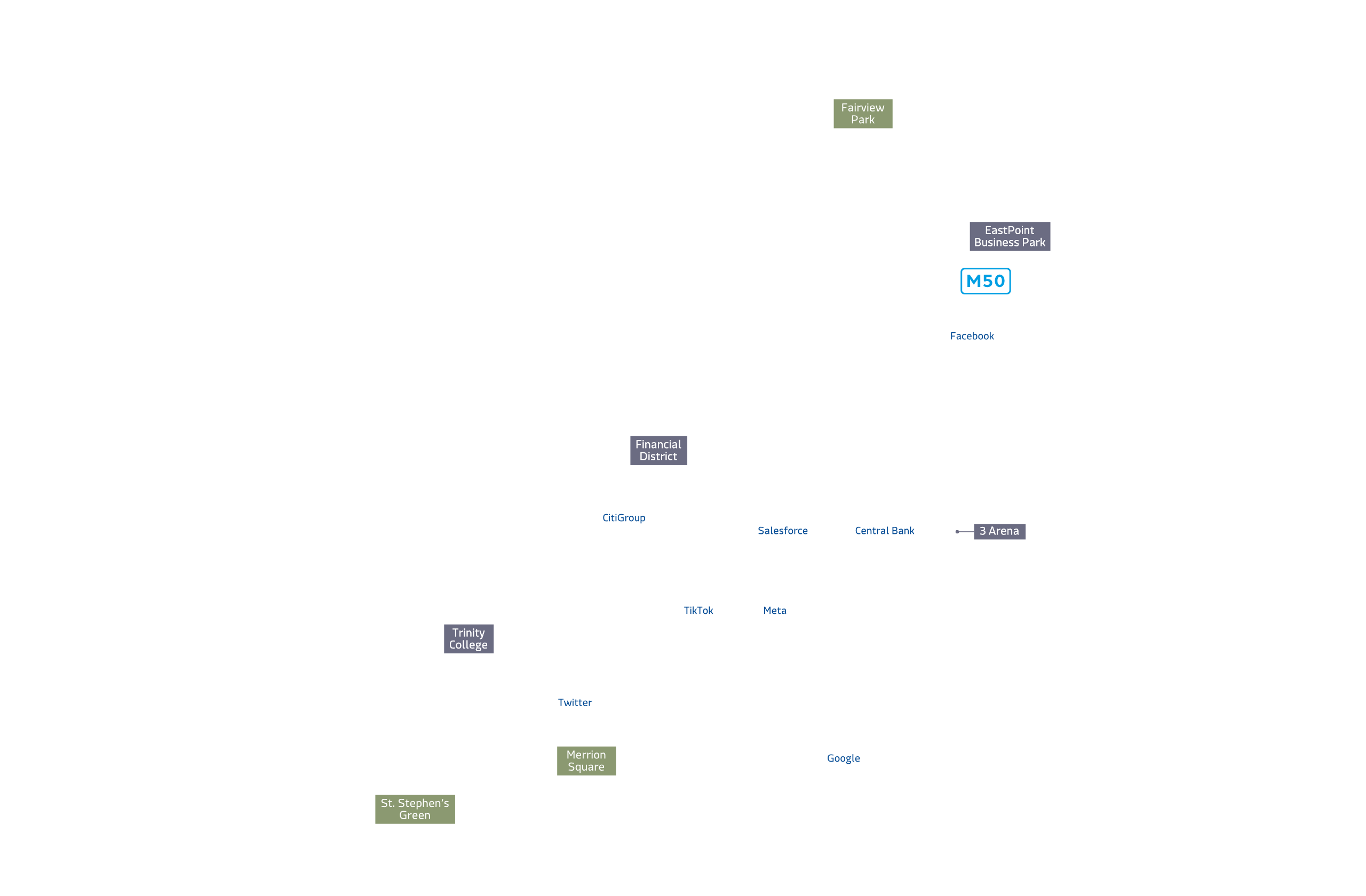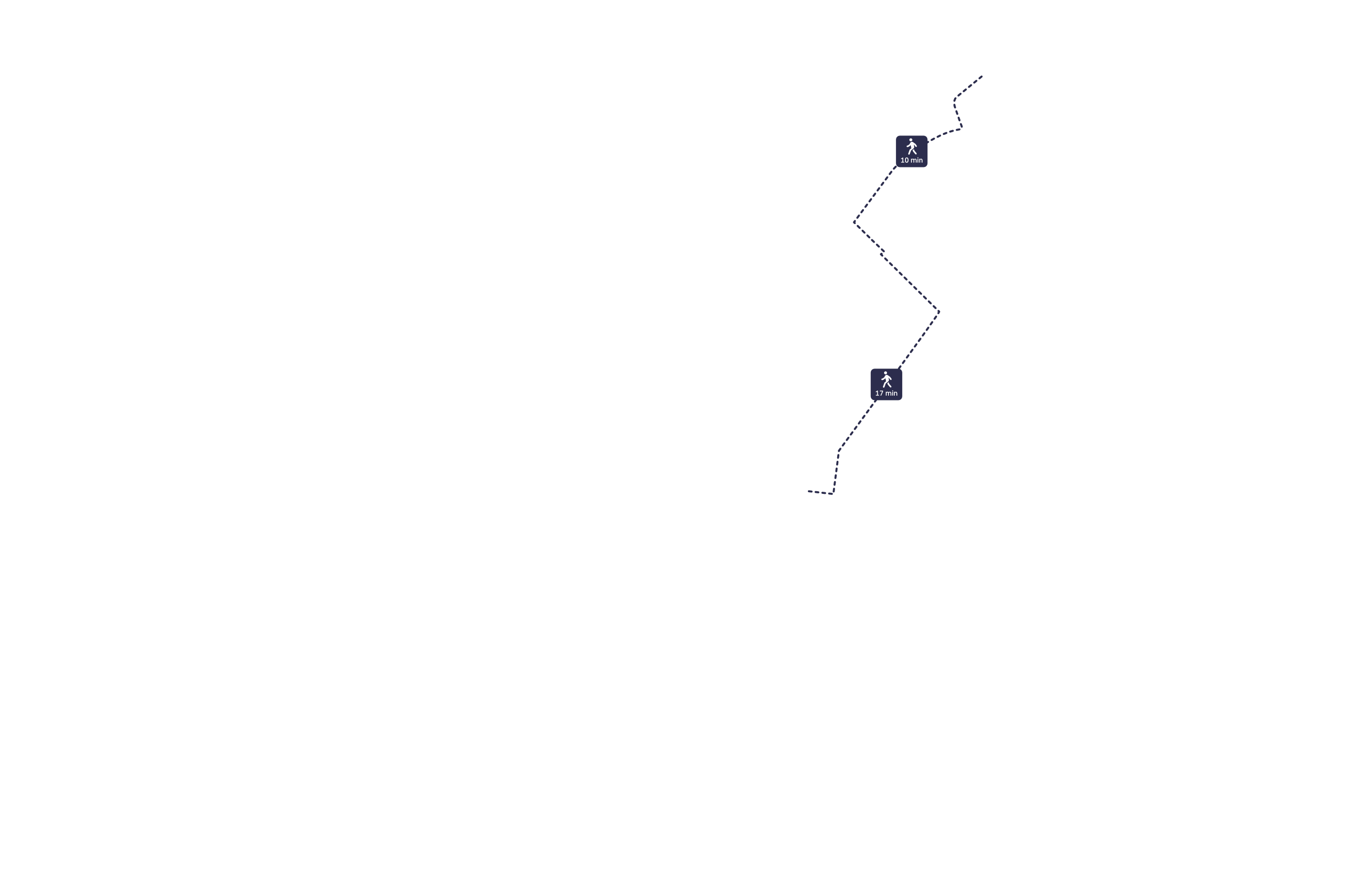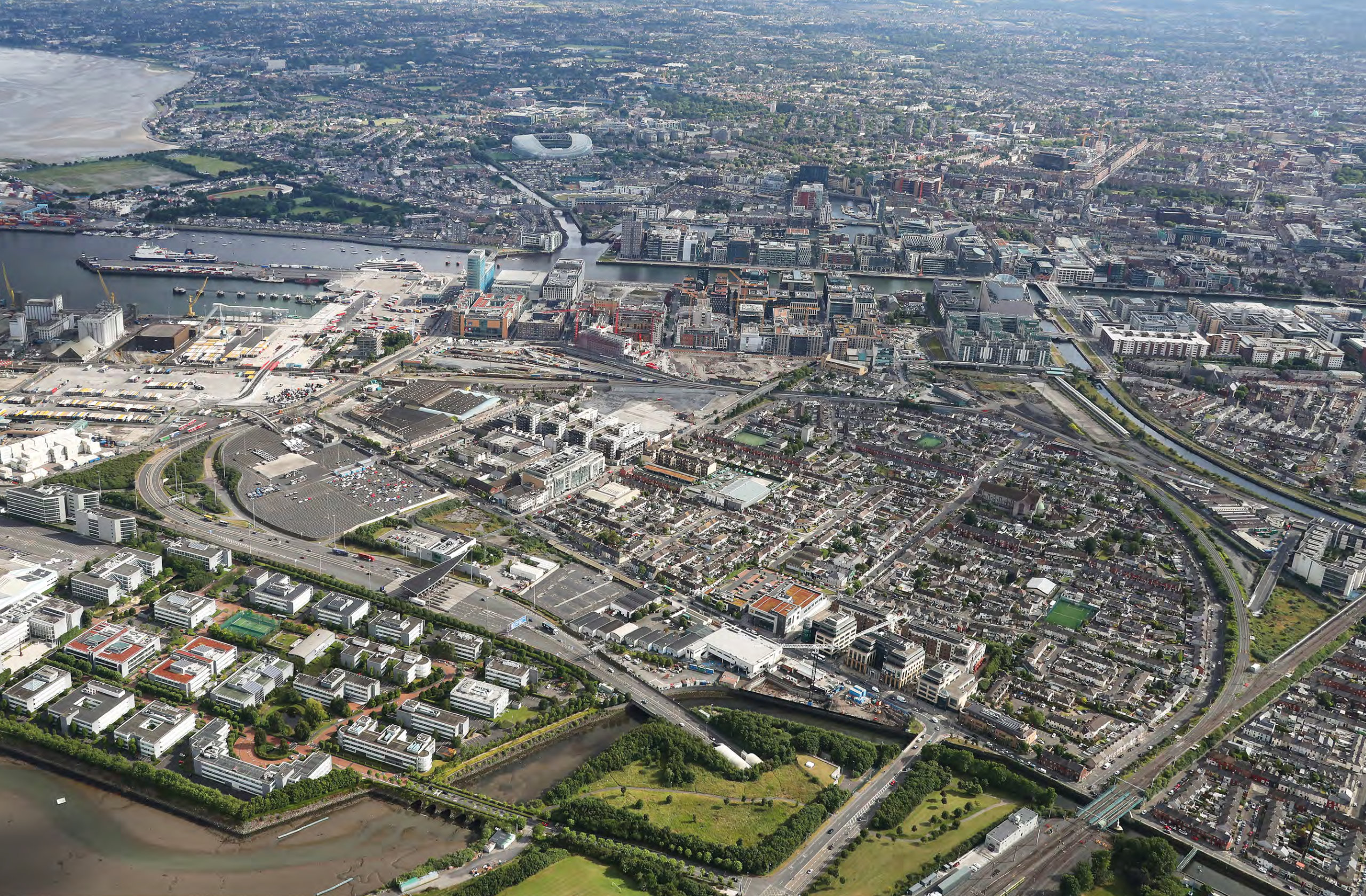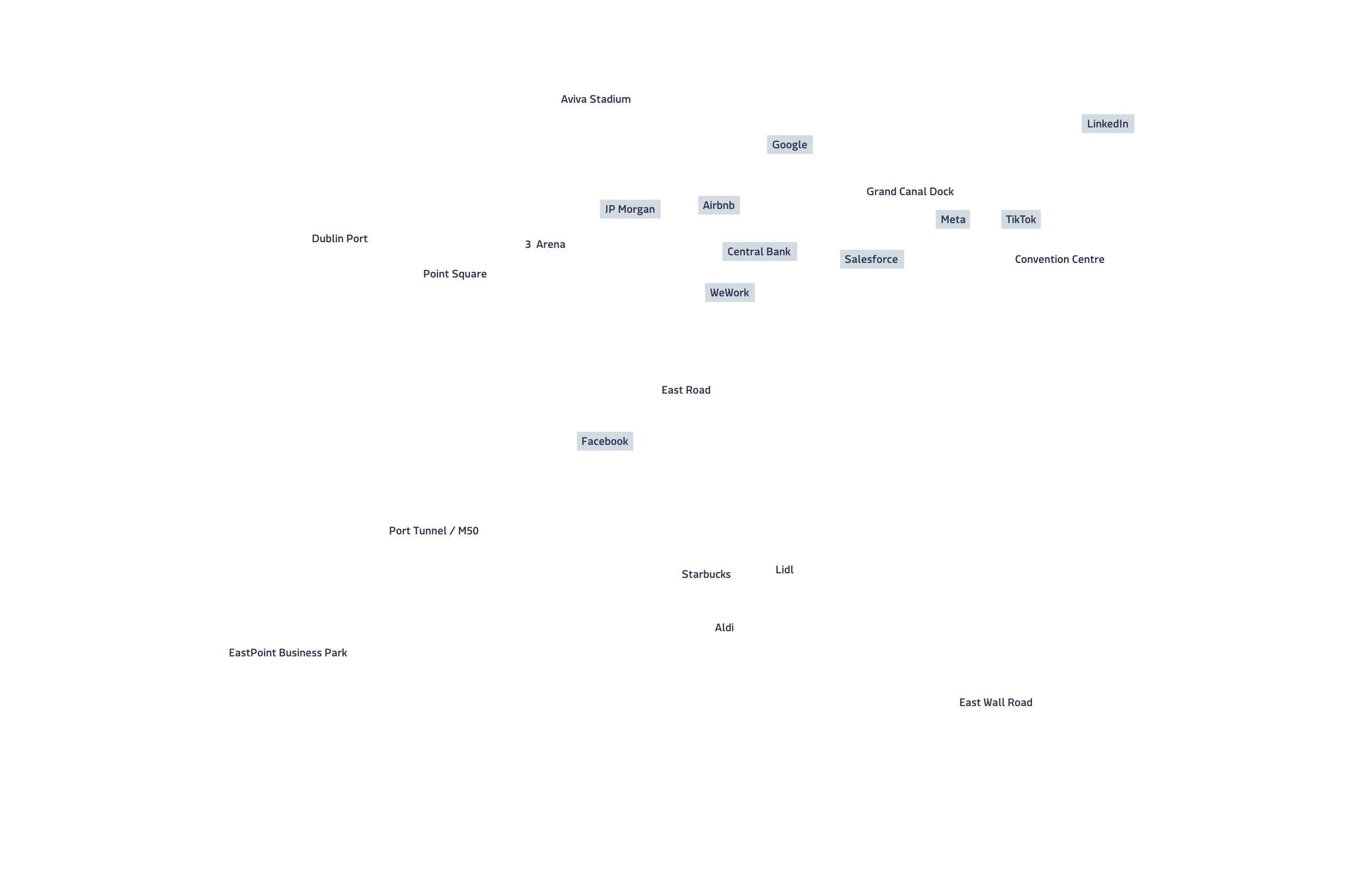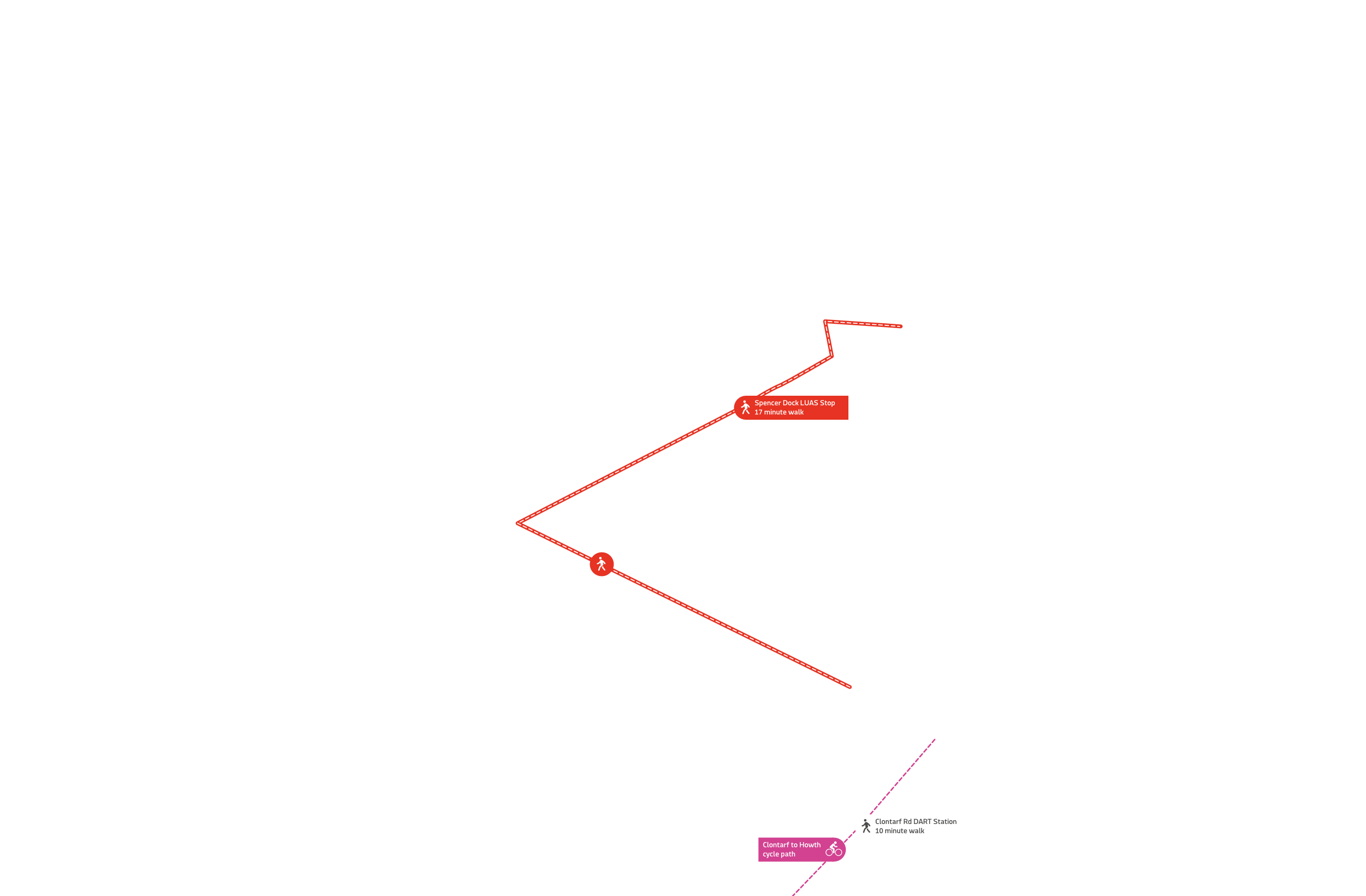 Connectivity
East Wharf is excellently served by Dublin's various modes of public transport. The local DART station, Clontarf Road is ten minutes' walk away and from here, users can quickly connect with the greater Dublin area. The LUAS runs through the nearby IFSC and serves the city centre extremely well before stretching on towards South and West Dublin.
The quality bus corridor offers multiple route options and can be accessed on North Strand Road, a mere five minutes' walk from East Wharf. O'Connell Street is thirty minutes away on foot and there is a dedicated cycle lane running from East Wharf all the way along the coast out to the scenic fishing village of Howth.
The Port Tunnel and East Link bridge are both less than five minutes' drive from East Wharf, conveniently linking motorists with Dublin Airport, South County Dublin and all major road networks within a 10 minute drive.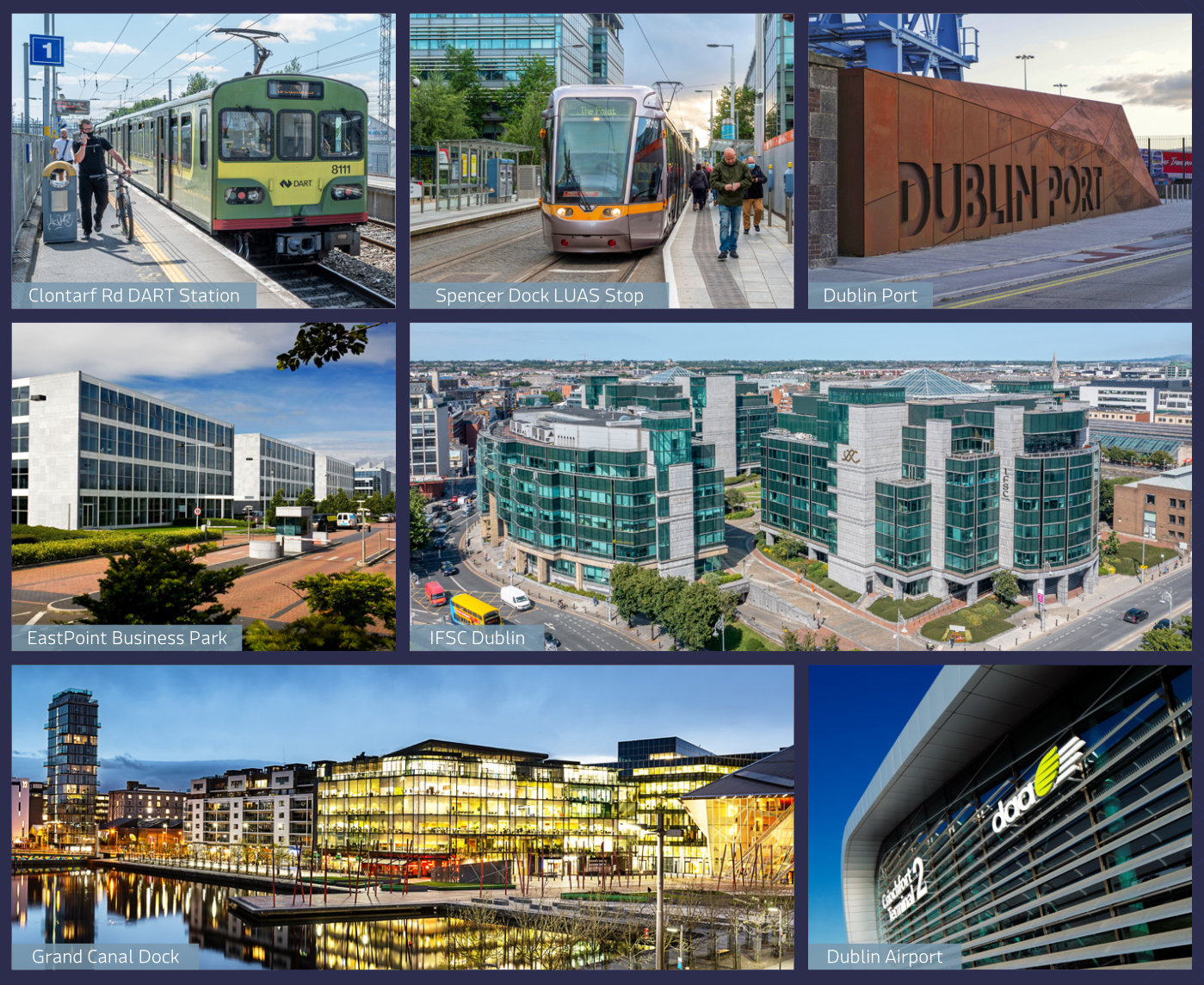 CLONTARF ROAD DART STATION
10 minute walk
3 minute cycle
3 minute drive
SPENCER DOCK LUAS STOP
17 minute walk
5 minute cycle
EASTPOINT BUSINESS PARK
5 minute walk
2 minute cycle
2 minute drive
IFSC/DOCKLANDS (CBD)
25 minute walk
8 minute cycle
8 minute drive
GRAND CANAL DOCK
30 minute walk
9 minute cycle
15 minute drive
DUBLIN PORT & TUNNEL
14 minute walk
6 minute cycle
4 minute drive
In The Neighbourhood
East Wall has enjoyed immense growth and development in recent decades and yet has famously maintained all of its original character and energy. The position of East Wharf puts an endless array of options on the resident's doorstep regarding work, rest and play – and all within a short distance of home.
The closest neighbouring suburbs are Fairview, Marino and Clontarf, all less than ten minutes' walk from East Wharf, each one offering up its own unique blend of retail, dining and 'things-to-do'. The main thoroughfare joining Fairview and Marino presents on one side a variety of high-end amenities including grocery stores, fish-shops, a fruit and vegetable market, an art gallery, beauty salons and a number of cafes and eateries. Across the road is the stunning 20-hectare Fairview Park, which neighbours East Wharf.
Clontarf lies to the east of Fairview and Marino and is equidistant from East Wharf. There are some first-rate retail and dining options on offer here, including specialist butchers, wine merchant, fashion boutiques, bakeries and food stores. Clontarf also features West Wood private health and fitness club which has state-of-the-art gym and workout facilities including the only 50-metre swimming pool in the country.
Clontarf marks the beginning of a stunning coastal drive away from the city and along scenic seaside suburbia all the way out as far as the Howth peninsula. This route also offers some ten kilometres of dedicated cycle and pedestrian pathways, taking in large expanses of green space, views of North Bull Island and Saint Anne's Park.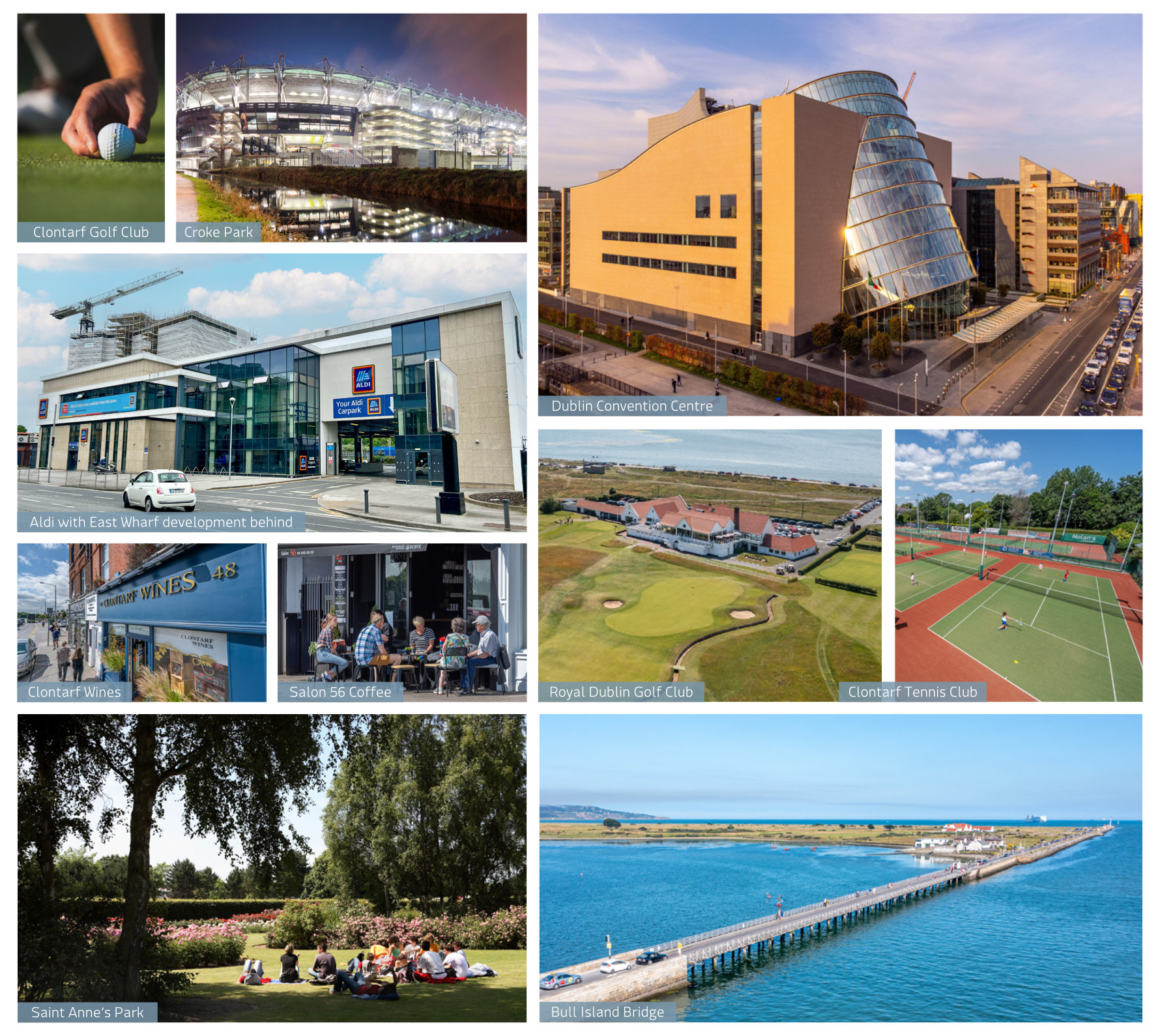 Description
East Wharf is a mixed-use scheme comprising of a 183-bedroom hotel, a retail unit, residential amenity space, and 105 apartments spread across three blocks (A, B and C) ranging in height from 8 to 15 stories.
The scheme will also include internal residential amenity areas, a landscaped urban plaza, riverside walkway along the River Tolka, a play area, car parking at basement level and bicycle parking at surface and basement level.
Accommodation Schedule
| | |
| --- | --- |
| Block A | 183 Bedroom Hotel |
| Block B | 46 Apartments and Retail Unit |
| Block C | 59 Apartments |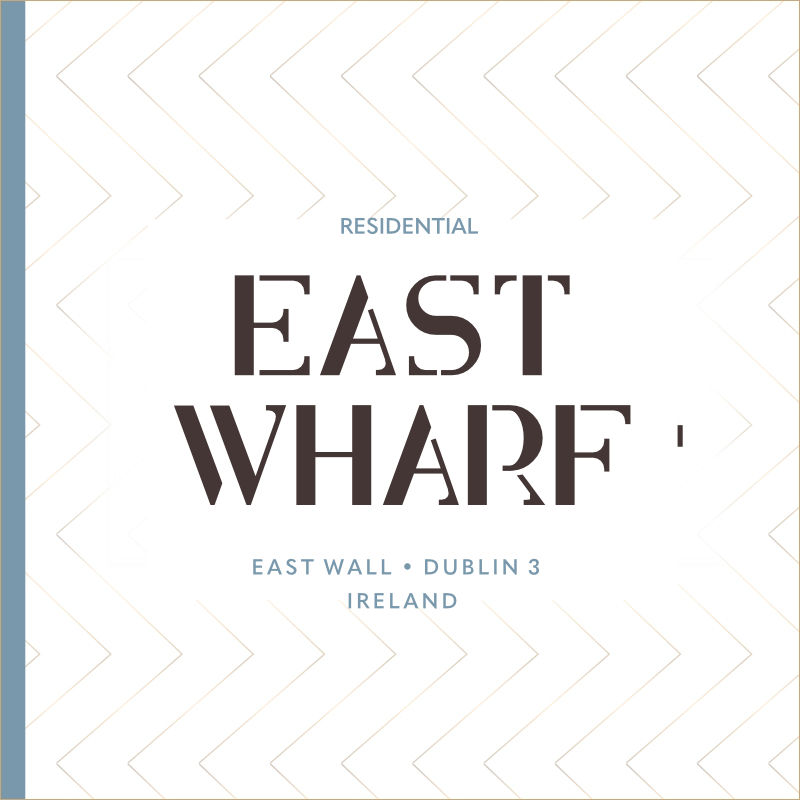 Architect
Davey + Smith
13 The Seapoint Building
44/45 Clontarf Road
Clontarf
Dublin 3
01 244 7638
Landscape Architect
Murray's & Associates
16 The Seapoint Building
44/45 Clontarf Road
Clontarf
Dublin 3
01 854 0090
M&E Engineer
O'Connor Sutton Cronin
9 Prussia Street
Stoneybatter
Dublin
01 868 2000
DISCLAIMER.
PROPERTY MISREPRESENTATION ACT MKN Property Group give note that the particulars and information contained in this brochure do not form any part of any offer or contract and are for guidance only. The particulars, descriptions, dimensions, references to condition, permissions or licences for use or occupation, access and any other details, such as prices, rents or any other outgoings are for guidance only and are subject to change. Maps and plans are not to scale and measurements are approximate. Whilst care has been taken in the preparation of this brochure, intending purchasers, Lessees or any third party should not rely on particulars and information contained in this brochure as statements of fact, but must satisfy themselves as to the accuracy of details given to them. Neither MKN Property Group nor any of its employees have any authority to make or give any representation or warranty (express or implied) in relation to the property, and neither MKN Property Group nor any of its employees nor the vendors or lessors shall be liable for any loss suffered by an intending purchaser/Lessees or any third party arising from the particulars or information contained in this brochure. Prices quoted are exclusive of VAT (unless otherwise stated) and all negotiations are conducted on the basis that the purchasers/lessees shall be liable for any VAT arising on the transaction. This brochure is issued by MKN Property Group on the understanding that any negotiations relating to the property are conducted through them.
Designed and produced by Creativeworld. Tel +353 1 447 0553.